What is Apple TV? For many people, it is a sleek, charismatic little box that allows you to deliver all of your digital content directly from your Mac or PC to your high definition TV. With the Apple TV, it makes it simple to access your favorite movies, music, tv shows, and pictures on your TV.
Apple TV is not the only device that allows you to do these things, however, it is the only one that grants you the ability to play items that have been purchased from iTunes. So even if you miss an episode of one of your favorite shows you can purchase the episode from iTunes and you are good to go!
What is Apple TV – The Menus of Apple TV
Settings – This allows you to customize your screen saver, put your Apple to sleep, and adjust audio and video qualities. If you prefer to turn off the home sharing feature, just go to the "Computer" section and, wallah, it's gone.
Computers – This is where you can link to any computer on your network. IT will allow you to use your TV as a computer monitor. Also gives you the ability to share anything on your hard drive.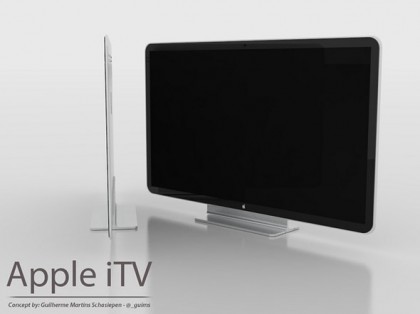 Movies – The menu has numerous options. In the "Top Movies" tab you will find movies that can be rented from $1.99 to $4.99. The "Genre" tab allows you to search by category like Drama, Comedy, Action and more. The "In Theaters" tab is a bit misleading. You cannot actually watch movies that are playing in theaters, but it allows you to see short previews of movies that are currently playing in theaters.
TV Shows – This tab gives you a list of TV Shows and TV Networks. This is where you will go if you missed an episode of your favorite program.. Here you can also find categories and genres to help narrow your selections down.
Internet – Within this tab, you can surf over to Netflix, YouTube, Podcasts, MobileMe, Flickr, and even listen to the radio. The radio is a great feature as you have uninterrupted Coolege/University, Comedy, Alternative Rock and Hip Hop radio playing. This really eliminates the need for Pandora. If you're short on tings to do, surfing around this menu can waste a few hours with ease.
What is Apple TV – What You Need For Set Up
- An HDMI Cable
- High Def TV with HDMI source and 720p Capabilities
- An Internet Network (Wired or Wireless)
- An iTunes Account
- A Broadband Internet Connection
That is it. Set up is simple and stress free, so even if you are electronically challenged, Apple TV offers no resistance there.
Now, Apple TV sets to come in 3 sizes, says reports
While Apple normally likes to keep its secrets secret, industry murmurs usually point to the truth well before an official announcement is made. Just like how the web circulated rumours that the company would produce a tablet months before the iPad became a reality, we're now fairly certain that an Apple-branded TV set will land in 2012.
Now new word from an inside source suggests that the size of the TV sets has been confirmed. The news suggests that Apple will offer three different sized TVs, starting at 33-inches and maxing out at 55-inches.
The three sets will offer a differing range of specs, from OLED to LG's Super HD technology. The source, who claims to be involved in one of the Japanese companies manufacturing the units, has revealed that the sets will be powered by a new Apple processor – the same one that will appear in the iPad 3.
It will tie in with a new operating system that'll mix elements of the current Apple TV and Siri. With Siri functionality, users will be able to control the set and search for any content using voice, or using any iDevice as a remote.
While this kind of news should be taken with a pinch of salt, it's worth noting that the Apple TV rumours are, on the main, all playing the same tune. The general theory is that Apple will have its TV sets on sale in time for the Olympics in June.